March 31st, 2007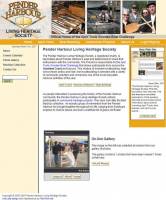 Last year, Kellei and I had a great time participating in the April Tools Wooden
Boat
Challenge, a mixture of inventive boatbuilding, team antics and kidsī mini-boatbuilding blended with a variety of community activities. This year Iīve had the honour of building a web site for the Society that organizes it...
The
Pender Harbour Living Heritage Society
, a registered charity, is fascinated
About
Pender Harbourīs past and determined to share that enthusiasm with the community. They needed a web site to help share the word and to promote the April Tools Wooden
Boat
Challenge. I already knew a couple of the members of the society both from other projects and through the Coast Guard Auxiliary and perhaps thatīs why they came to me for the site.
Itīs always easy to build a web site when you know and love the subject matter - In this case, wooden boats and maritime heritage, it was a shoe-in!
The new web site
http://www.maritimeheritage.ca
went live yesterday and is still getting some new content loaded, but already provides a good bit of background on the society, area, and their community events.
---
RSS feed
Feed Description
All News RSS feed
Complete RSS feed
Bosunīs Log
RSS feed for: Bosunīs Log
A Rich Site Summary (RSS) feed is an xml data file that provides a summary of the information contained here. It is not designed to be viewed in your browser, but instead by rss reader software. If you do not know what this means - you can safely ignore it, as it is provided for advanced users with rss reader software only.