September 7th, 2005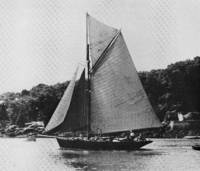 Carlotta
My fellow SALTSies from the 90īs will probably know the name Steven Mohan or perhaps only know him as īElvisī either way - our very own
King
has embarked upon a new project - which he just enlightened me
About
yesterday - so I though it best to share it with everyone:
http://www.pilotcutter.ca/
outlines his plans to refit and restore the 1900 pilot cutter
Carlotta
right here on the Sunshine Coast (I hope I get to help!)
In īit such a small worldī kind of circle - he is actually getting wood for the projedct from the fellow responsible for the kids toy
Boat
building at last yearīs Sunshine Coast Wooden
Boat
Festival - which Iīm chairing for 2006 - now all we need to do is convince Elvis to bring Carlotta down for the festival in 2006!
Taking an abrupt left turn another friend from the
CCGA
has started a new web site dedicated to the Sunshine Coast and I wanted to call attention to it here -
http://www.coasttalk.com/
is positioned to be the best community site for the coast - Weīll see where things go - wish him luck!
Finally we have confirmation that we are getting new custom fit flight suits for
ISAR
- this is entirely in the cool dept and has no real
Bearing
on antyhign other then me being excited
About
it.
SO... tgo answer the question: What do a 1900īs cutter, a new web site, and flights suits have in commmon? the only answer I can come up with is
todayīs blog
.
---
RSS feed
Feed Description
All News RSS feed
Complete RSS feed
Bosunīs Log
RSS feed for: Bosunīs Log
A Rich Site Summary (RSS) feed is an xml data file that provides a summary of the information contained here. It is not designed to be viewed in your browser, but instead by rss reader software. If you do not know what this means - you can safely ignore it, as it is provided for advanced users with rss reader software only.