March 17th, 2007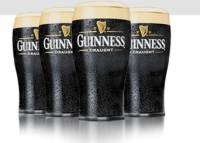 I have always felt I had some kind past-life in Ireland or something and today is, obviously, the day to celebrate it. My very first experience of tasting beer, unlike many Canadians who probably tried something by Molson - I tried Guinness. It was at the Ireland Pavilion at Expo 86 in Vancouver - I was 13 and I think that the taste I was offered was for more of a joke then anything else - but I loved it and the hook was planted for life... forget
About
that pale, limp, beer from Canada and perish the water that comes from the States ;)
Since then I actually managed to make a trip to Dublin - it was a side trip from a photography job in England and I only had one night but the Guinness factory tour was certainly on the program. It finishes off with a pint in their pub and wow, what a difference. I thought I liked it here - itīs
About
twice as think there and a wholly different experience.
In any regard - on this day of the year I fondly remember that trip and look
Forward
to the next time Iīm there to savor the black gold yet again in itīs home country.
---
RSS feed
Feed Description
All News RSS feed
Complete RSS feed
Bosunīs Log
RSS feed for: Bosunīs Log
A Rich Site Summary (RSS) feed is an xml data file that provides a summary of the information contained here. It is not designed to be viewed in your browser, but instead by rss reader software. If you do not know what this means - you can safely ignore it, as it is provided for advanced users with rss reader software only.