September 6th, 2005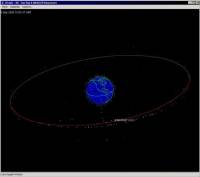 NASA Satellite Tracker Applet
A cool little applet from NASA allows you to track over 500 of the satellites orbiting our very own little earth.
At first glance what really struck me is the sheer amount of stuff that is orbiting us. I always knew there was a lot of it - but never really have seen as good a visual representation as this. In any regard, itīs a good little toy to while away a few hours with - especially for people like me suffering through a nasty little flu.
I must have been run down after working a bit too much both here and in Oklahoma - or perhaps the fire got me stressed more then I realized. Iīm not sure - but this is one doosy of a flu - sapped all my energy and I think I managed to infect Kellei with a touch of it as well :<
It seems as though itīs almost over though - which is good news as I really need to get on with training for
ISAR
and for my 041
Chart
work exam which is one week Thursday (oh great - more stress)!
In SALTS news - Iīm excited to see what comes in terms of photos in the near future - Iīve had 4 people email me wanting an album for Pacific Swift Trip 5 - including someone from right hear in Sechelt (and I apologize - we keep bumping into each other at the local grocery store and I still donīt know your name - you have my permission to get cross at me for that when next we meet) Should be nice to see all these photos when they start to come in.
Well itīs
Back
to chicken soup and Niquill for me...
---
RSS feed
Feed Description
All News RSS feed
Complete RSS feed
Bosunīs Log
RSS feed for: Bosunīs Log
A Rich Site Summary (RSS) feed is an xml data file that provides a summary of the information contained here. It is not designed to be viewed in your browser, but instead by rss reader software. If you do not know what this means - you can safely ignore it, as it is provided for advanced users with rss reader software only.