January 5th, 2007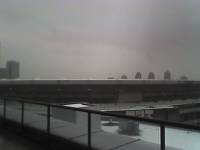 BC Place Stadium - Post-Deflation
Some of you probably already read
About
this - but the Teflon roof of BC Place Stadium in Vancouver tore and the whole thing deflated after all the wind storms in BC lately... Described by one radio DJ: "The suoffle that graces the Vancouver Skyline - BC Place has fallen - someone must have really bumped the oven!"
The initial report kinda took me completely by surprise, with all the wind we have been getting lately - the latest storm was minor by comparison - so we werenīt really expecting anything significant to come of it damage-wise - I guess this was a īlast strawī kinda thing.
Anyway a Duke of Edinburghīs Award buddy of mine in Vancouver sent this photo along and Iīve included a file photo so you can see the difference. Itīs pretty amazing and very fortunate no-one was hurt!
---
RSS feed
Feed Description
All News RSS feed
Complete RSS feed
Bosunīs Log
RSS feed for: Bosunīs Log
A Rich Site Summary (RSS) feed is an xml data file that provides a summary of the information contained here. It is not designed to be viewed in your browser, but instead by rss reader software. If you do not know what this means - you can safely ignore it, as it is provided for advanced users with rss reader software only.