December 1st, 2006
Call it an early Christmas present... Iīve updated the gallery to allow setting the number of columns and images per page. I also added all the new translation code to that module - so soon it will be available in different languages...
For the longest time I had restricted the gallery to only a 2 col. display (to appease all the 800x600 guys) - and thus
About
20 images per page so that it didnīt go on forever. But as more and more people bump up their screen resolutions and 1024x768 or better becomes the norm I felt it was time for an update. So now the default display is a 3 col layout with 30 images per page. But you can change it
Back
to 2 or bump it all the way up to 6 and have as many as 150 photos per page (granted that will take a bit to load ;) ) - great for guys like me with 1600x1200 displays.
Since I was in there anyway I added all my new translation code to that module - so very soon (as soon as I find some translators) that area will be visible in different languages as well.
Enjoy all!
---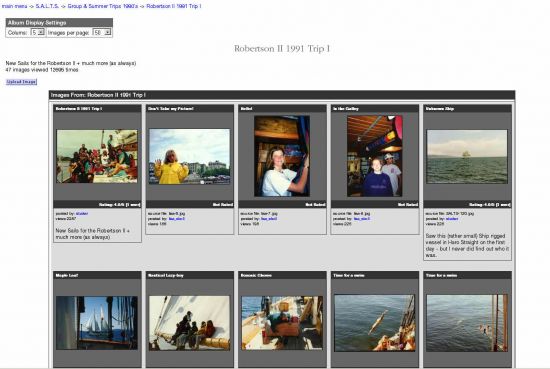 Screenshot of the new Gallery (5 col)
RSS feed
Feed Description
All News RSS feed
Complete RSS feed
Bosunīs Log
RSS feed for: Bosunīs Log
A Rich Site Summary (RSS) feed is an xml data file that provides a summary of the information contained here. It is not designed to be viewed in your browser, but instead by rss reader software. If you do not know what this means - you can safely ignore it, as it is provided for advanced users with rss reader software only.