November 20th, 2006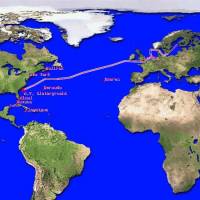 Example from new TrackNav System
Iīm feeling very international today... I have a conference call with New Zealand Coast Guard at 2pm, another with Quebec Coast Guard Auxiliary at noon and Iīm working on a proposal for Australia - while noting the completion of my updates to the International Vessel Tracking System here... and itīs only
Monday
!
As you may have noticed - I completed the updates to the Vessel Tracking a couple of days ago - it has all the features mentioned in
This Post
and some more. So now youīll see different charts used for display depending on the range of the route being plotted - I still have a few more things to add before SLATS 2007 offshore to make it even more spiffy - but itīs much closer now.
New Zealand and Quebec are both
About
the
SAR Management System
that I have been going on
About
at length. The group from New Zealand looks as though they could implement it with few to no changes - however for Quebec I would need to translate all the hard coded messages - something I have known Iīm going to need to do in the XDe for a while now - but have been dreading due to the magnitude of the work - however I have some ideas
About
that ;)
Finally Australian proposal is for a vessel tracking system (
gee... think Iīve seen one of those somewheres...
) but I need to add a bunch if notifications and not force plotting as theirs would be a real-time system for tracking vessels in and out of their
SAR
Regions during voyages.
So, fun fun fun for a Monday...
---
RSS feed
Feed Description
All News RSS feed
Complete RSS feed
Bosunīs Log
RSS feed for: Bosunīs Log
A Rich Site Summary (RSS) feed is an xml data file that provides a summary of the information contained here. It is not designed to be viewed in your browser, but instead by rss reader software. If you do not know what this means - you can safely ignore it, as it is provided for advanced users with rss reader software only.