November 11th, 2006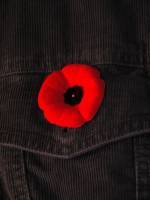 Each November, Poppies blossom on the lapels and collars of over half of Canadaīs entire population. Since 1921, the Poppy has stood as a symbol of Remembrance, our visual pledge to never forget all those who have fallen in war and military operations. The Poppy also stands internationally as a "symbol of collective reminiscence", as other countries have also adopted its image to honour those who have paid the ultimate sacrifice.
For more information -
http://www.legion.ca/asp/docs/rempoppy/allabout_e.asp
---
RSS feed
Feed Description
All News RSS feed
Complete RSS feed
Bosunīs Log
RSS feed for: Bosunīs Log
A Rich Site Summary (RSS) feed is an xml data file that provides a summary of the information contained here. It is not designed to be viewed in your browser, but instead by rss reader software. If you do not know what this means - you can safely ignore it, as it is provided for advanced users with rss reader software only.