October 10th, 2006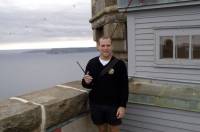 On Signal Hill
Iīm in St. Johnīs Nfld now
Starting
to work on reviewing the Simulator Project for the Coast Guard Auxiliary. We had a quick look at the thing yesterday - but today is the main tour and meetings to look at progress and answer questions.
On Sunday Thomas and I were able to take a bit of time away for a
Hike
up Signal Hill. It was a beautiful walk through some of the residential areas and then up into the park along the coast. I had completely forgotten
About
the fact that this is where the first radio transmissions were sent by Marconi testing trans Atlantic. So, I whipped out my HAM radio and forced Thomas to grab the picture you see.
We have been really fortunate with weather - albeit a bit windy - but that did afford us some nice swell when we made a side trip at the end of meetings yesterday out to Middle Cove. This is a beautiful little beach that has a somewhat troubled history for anyone in the Coast Guard/Auxiliary as a three man rescue team perished there in the late 80īs. It was all caught on video and is still shown for training. So, despite the natural beauty - it was a bit of a sombre visit.
I should have more to report on our return from Simulator meetings today - and hopefully will keep up with logging a bit better ;)
---
RSS feed
Feed Description
All News RSS feed
Complete RSS feed
Bosunīs Log
RSS feed for: Bosunīs Log
A Rich Site Summary (RSS) feed is an xml data file that provides a summary of the information contained here. It is not designed to be viewed in your browser, but instead by rss reader software. If you do not know what this means - you can safely ignore it, as it is provided for advanced users with rss reader software only.