September 2nd, 2005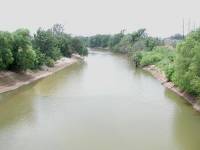 North Canadian River
At first glance, there really dosenīt seem to be much of anything here in almost the middle of the state of Oklahoma - The hotel Iīm staying at is located in a town called Yukon and we drive every morning
About
40 mins to the town of Kingfisher where the telecom Iīm helping out is located.
There are some funny things
About
all this though. As I hinted at when I got here despite being dead center in the US, for some reason I find they have named the place "Canadian County" - so to recap - Iīm actually staying in Yukon, just south of the North Canadian River and I drive by the Canadian State Bank every morning...
Um, is it me, or is there something a bit odd here - did the founders lack all concept of creativity in terms of place names? Or perhaps the first settlers actually came from the North rather then the East...???
All kidding asside - the first time I visited the area
About
3 years ago we stayed in the small town of El Reno (oh, wait another copy-cat name) - should you ever find yourself in Oklahoma, looking for a place to say I certainly recommend that you DO NOT
Stay
in El Reno - a meal at Dennys being the highlight of the cuisine and nightlife there.
In contrast - now that we have moved ops to Yukon the situation is very different - and I will actually recommend a restaurant there. The place is called simply īPrimosī - and from the outside dosenīt look like much - but the food could certainly compete with any of the medium-high end restaurants in a metropolitan center like Vancouver - which is extereemly rare to find in these parts. They have really good service too - to the extent that the first time I arrived there the hostess at the door actually steped up and opened the door for me before I could walk in, they threw in a free dessert because I had never been there before, and (and this is kinda funny) included an entire loaf of bread with the chick salad I ordered the first night - sufficient to sustain me for lunch the next day.
My trip nearly done - and the source of what I expect is the best food for miles around now discovered - I look eagerly towards my trip home. As I understand it - Iīll be
Back
on call for the
CCGA
as soon as I get
Back
(which is fine by me) - I can hardly wait to get
Back
out on the water again.
No news seems to be good news
About
the house fire - and I did manage to get a letter off to the fire dept (ccīed the paper) which Iīll include here as well:

To the Sechelt Volunteer Fire Department,


Thank you. Your prompt, professional response to our house fire on Tuesday August 23rd was inspiring. Your efforts and those of others in the area prevented this one fire from becoming a small disaster. You saved the forest. You saved our home and our neighbourīs homes. You even went the extra mile and saved almost all of the belongings of a couple that was storing all their worldly possessions in the garage. All told, three families lives were turned upside down because of this one fire - but it could have been much worse had it
not been for your work. We just wanted to make sure you know - for every time you go out training, for every false alarm, every training Course, and even every meeting you attend how much we appreciate it. For us - all that time just paid off in a tremendous way and we thank you for every hour you have devoted - not just during the fire, but the countless hours of dedicated effort that prepared each of you to deal with it as effectively as you have done.

Kellei Bulmer & Scott Baker
---
RSS feed
Feed Description
All News RSS feed
Complete RSS feed
Bosunīs Log
RSS feed for: Bosunīs Log
A Rich Site Summary (RSS) feed is an xml data file that provides a summary of the information contained here. It is not designed to be viewed in your browser, but instead by rss reader software. If you do not know what this means - you can safely ignore it, as it is provided for advanced users with rss reader software only.