September 28th, 2006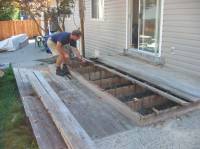 Deconstruction before Construction
It was another day of
Deck
building for us yesterday. Probably the biggest part of the job - getting out the old
Back
Deck
and
Starting
in on the new foundation and structural for the new...
The new
Deck
, being a single level all the way around, is going to feel quite a bit bigger then the old - in addition to being much more attractive. I donīt really understand why they made a 3 level
Deck
before in such a small area - it was nearly useless (referring to the
Back
one you see in the before picture)
We have
About
75% of all the support structure in now so itīs mainly just the decking now - a slow process to ensure fit and then for Kellei to stain every one - but this is an amazingly rewarding process.
There is still another 20ī to extend out from the
Back
- so what you see in the photos (after) is only 1/3 of the
Back
Deck
.
We have a long way to go yet...
---
More Images
---
RSS feed
Feed Description
All News RSS feed
Complete RSS feed
Bosunīs Log
RSS feed for: Bosunīs Log
A Rich Site Summary (RSS) feed is an xml data file that provides a summary of the information contained here. It is not designed to be viewed in your browser, but instead by rss reader software. If you do not know what this means - you can safely ignore it, as it is provided for advanced users with rss reader software only.