September 9th, 2006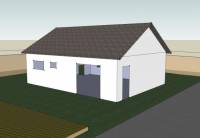 Elevation of the Planned Re-Construction
We have finally made an official start to the re-construction (capping) of our second building - the house in the
Back
that burnt down last year. It was a wonderful feeing to make a start at it and we can hardly wait to do more...
Just as a
Starting
point... letīs call this
Before
and Iīll keep you posted with more durings and we can all look
Forward
to the after ;)
Kellei and I are going to attempt to do as much of this ourselves as possible - effectively converting what was a dwelling into a utility bvuilding (mainly for Kelleiīs Scuba "stuff")
As such, the plan is to put up the roof asap (before the winter rains) and then slowly clean up the inside once the building is all enclosed. Right now, weīre waitin gfor the building permit - which should be ready next week. Then itīs three more weeks for the roof trusses to be delivered - then we can attack the project with a vengence.
We already invited over the contractor, fellow
CCGA
coxswain, and friend that took away what was left of the second story and he provided us with LOADS of information, tips, etc... so we feel somewhat ready now.
Our start yesterday consisted mainly of disconnecting things like wires, plumbing etc... that was still attached to what were the floor joists. These will all be removed before the new roof goes up - so they need to be "disconnected" from all the old stuff still clinging to them.
It also rained last night for the first time in months so we left the tarp covering the place and will probably wait a week or so before we pull that off and take down the joists - just to keep it as dry as possible for as long as possible.
Anyway, this marks the official start - so wish us luck - and weīll keep you posted on our progress.
---
RSS feed
Feed Description
All News RSS feed
Complete RSS feed
Bosunīs Log
RSS feed for: Bosunīs Log
A Rich Site Summary (RSS) feed is an xml data file that provides a summary of the information contained here. It is not designed to be viewed in your browser, but instead by rss reader software. If you do not know what this means - you can safely ignore it, as it is provided for advanced users with rss reader software only.