September 1st, 2006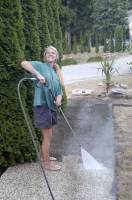 Kellei powerwashes away the grime
Kellei got a power washer
Back
in the spring and since then has, as time permits, been working to clean off over 12 years of grime on our driveway and paths. We finally got the front done and what an amazing difference...
As you can see from the photo it was pretty bad. Now, itīs so bright in the sun that it hurts your eyes! For anyone that has been following along here for any length of time - youīll see the project list keeps growing - but we are finishing things. We still have two very big ones left - and not much "Summer" left to do them - the
Deck
(all 3000sqf of it) and the
Back
house (still waiting for the permit)
As always weīlll keep you posted!
---
RSS feed
Feed Description
All News RSS feed
Complete RSS feed
Bosunīs Log
RSS feed for: Bosunīs Log
A Rich Site Summary (RSS) feed is an xml data file that provides a summary of the information contained here. It is not designed to be viewed in your browser, but instead by rss reader software. If you do not know what this means - you can safely ignore it, as it is provided for advanced users with rss reader software only.