August 26th, 2006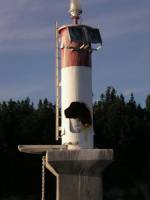 Damage to Reception Pt. Light
We went out on a
CCGA
Training run again yesterday evening - itīs likely to get called on a Friday evening in the summer anyway. No surprise that as soon as we called in we were asked to do a little recon work. Something/someone had hit the light at Reception Pt. and caused some damage and the Coast Guard wanted a few photos...
As you can see from the photo, it was a fairly nasty hit. that light is
About
20ī off the water at high tide - so whatever hit it was
big
!
Anyway, after that we dropped off some coffee at Merry Island light house (friends) and then continued with some search pattern training. All in all it was a nice evening and devoid of any real rescues ;)
With this the last summer weekend before the labour day weekend we still expect the pagers to go off anytime though - so weīre keeping an ear to the radio and getting more done around the house.
---
RSS feed
Feed Description
All News RSS feed
Complete RSS feed
Bosunīs Log
RSS feed for: Bosunīs Log
A Rich Site Summary (RSS) feed is an xml data file that provides a summary of the information contained here. It is not designed to be viewed in your browser, but instead by rss reader software. If you do not know what this means - you can safely ignore it, as it is provided for advanced users with rss reader software only.