August 16th, 2006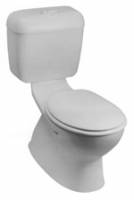 Caroma Toilet
How often in your life can you honestly say that you got excited
About
getting a new toilet? For me it was never - until
About
a week ago...
The district here recently initiated a new program to replace watter guzzler toilets (ones that used more then 13L in their tank) with the latest ultre-low flo toilets. We jumped on the band-wagon and boy are we glad we did. The replacement and install was
free
so one canīt complain
About
the price!
the
new toilets
are awesome. The look better use only 1.6L for a small flush or 3L for a big one (you can choose) plus they have a huge 4" diameter drain - so they never plug - well, ours hasnīt yet and the old ones did all the time. The tank is plastic - so it never builds up condensation and they are built to be very easy to clean.
Anyway - just my 2c if youīre in the market - these ones rock and make your time in the loo as pleasurable as possible while helping save water at the same time.
---
RSS feed
Feed Description
All News RSS feed
Complete RSS feed
Bosunīs Log
RSS feed for: Bosunīs Log
A Rich Site Summary (RSS) feed is an xml data file that provides a summary of the information contained here. It is not designed to be viewed in your browser, but instead by rss reader software. If you do not know what this means - you can safely ignore it, as it is provided for advanced users with rss reader software only.