August 8th, 2006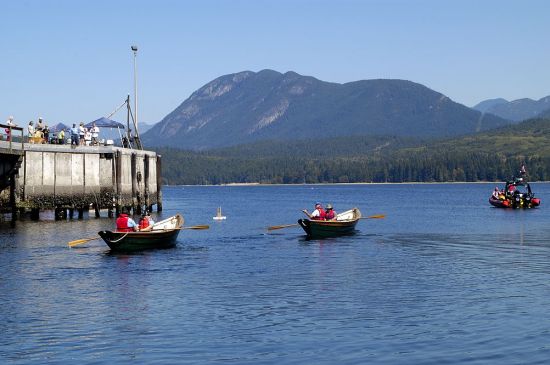 Blindfolded Rowboat Races
Kellei and I spent the entire weekend working at the 2006 [url=http://www.scwoodenboat.ca/]Sunshine Coast Wooden 102;link Festival[/url] - we plan for it all year and itīs finally done. This was our most successful year - and in part some of the fun was due to our new dories - used, yet again, to bring smiles to the faces of many...
The Dories formed the focus for the Blind Folded Row
Boat
Races. A feature each year at the Festival. Groups of two rowers compete in timed races with the rower being blindfolded and their teammate allowed only to direct them. This hilarity was made all the more fun this year by having traditional dories in which to run the races.
Actually, it was even more fun at the conclusion of the festival because the dories won
Best Human Powered
in the festival!
Kellei and I are very sore, tied, and drained from all the work at the festival but beyond thrilled with the outcome. Itīs a huge job - but so rewarding! The dories are safe at home in our backyard now and weīll start in on some restorations soon - weīll keep you all posted on our progress.
---
RSS feed
Feed Description
All News RSS feed
Complete RSS feed
Bosunīs Log
RSS feed for: Bosunīs Log
A Rich Site Summary (RSS) feed is an xml data file that provides a summary of the information contained here. It is not designed to be viewed in your browser, but instead by rss reader software. If you do not know what this means - you can safely ignore it, as it is provided for advanced users with rss reader software only.