August 3rd, 2006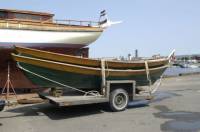 Our New Twins!
Some of you may have guessed with the hints I gave yesterday - but Today Kellei and I became the proud custodians of twin pieces of SALTS History - Two of the
Swift
´s Original Dories!
If you´re a SALTS member you may have heard that last year they replaced all three dories on the Pacific Swift. The old ones were getting ´tired´ and it was easier to build new ones. That left the old ones looking for new homes - we Jumped at the chance, but with all the Wedding plans etc it has taken until now to inally arrange to get two of them (the third having already been sold)
Just in time too - with the [url=http://www.scwoodenboat.ca/]Sunshine Coast Wooden 102;link Festival[/url] right around the corner we pushed the limit and made a one day trip to Victoria to pick them up today - so that they would be ready in time for the festival (which we joint-chair) that starts Tomorrow (fewh!)
The do need some TLC and we needed to get new oars (we seized the looms on the ferry ride
Back
) we also need (hopefully) to find new plugs tomorrow - or they´re going to sink rather then swim!
But We have BIG plans for our new twins - and we´ll keep everyone here informed as their restoration project continues. We are oh-so-excited and having them in time for the festival is a super bonus!
However - it has been a long day (up at 0400h and not
Back
until 2230h) so we´re a bit tired and I´ll keep this short...
But - a
HUGE
thanks to Sheane Reid of
Raven Wood Services
who not only lent us the trailer to get the dories but also (in less then 4 hours) made us new thole pins for them so they are ready for use at the festival.
---
More Images
---
RSS feed
Feed Description
All News RSS feed
Complete RSS feed
Bosun´s Log
RSS feed for: Bosun´s Log
A Rich Site Summary (RSS) feed is an xml data file that provides a summary of the information contained here. It is not designed to be viewed in your browser, but instead by rss reader software. If you do not know what this means - you can safely ignore it, as it is provided for advanced users with rss reader software only.