July 31st, 2006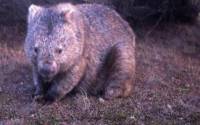 Never Eat A Wet Wombat
For many years during High school and University I had a favorite saying (mainly to confuse people) "
Never Eat A Wet Wombat
" so this little news story really tickled me...
Police Bust Up Wombat-Fighting Ring
you need to read it to believe it...
Here is the article:

Toledo, OH Police and animal investigators removed several dozen Australian wombats from a north Toledo home in what was described as a "failed wombat-fighting ring."

Police also arrested LaGrange Street resident Marty Kensington, 45, on cruelty Charges.

Interviewed by Toledo Tales, Kensington expressed remorse at his actions.

"The bastard who sold them to me said they were vicious killers," said Kensington. "I paid $300 bucks for a pair of eucalyptus-leaf eating retards who just stare at each other with a dull glare."

Kensington tried many techniques to get the wombats to fight, but all they would do is "eat and breed."

"Yeah, I tried poking īem with sticks, yelling at īem, and dumping acid on their heads, but nothing seemed to work," he said. "They just sit there and stare at you, drooling and grunting."

The animals, said Kensington, have been a bad investment, and he was "relieved" when police arrived.

"Not only will they not fight, but they dig their way out of every kennel Iīve built," he said. "Good riddance, I say About the smelly bastards."

Now, you may ask - where on
earth
did you find this - and that would be a valid question. The answer is my direct link to the man some of us know as the "Where does he find this stuff guy" one of my closest friends who has a knack for finding strange and unusual stories and tid-bits on-line... and this one certainly qualifies.
So I realize this is a bit of a break from sailing etc - but I had to share...
Source: http://toledotales.blogspot.com/2006/07/police-bust-up-wombat-fighting-ring.html
---
RSS feed
Feed Description
All News RSS feed
Complete RSS feed
Bosunīs Log
RSS feed for: Bosunīs Log
A Rich Site Summary (RSS) feed is an xml data file that provides a summary of the information contained here. It is not designed to be viewed in your browser, but instead by rss reader software. If you do not know what this means - you can safely ignore it, as it is provided for advanced users with rss reader software only.