July 21st, 2006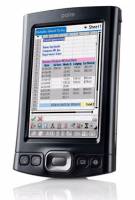 Iīve been a palm user since the original "Palm Pilot" I graduated to the Palm IIIc when it came out and sold my Pilot - I used that until itīs battery died and have been palm-less for over a year (the withdrawals!)
Kellei too had been complaining, of late,
About
the need for some kind of organizer. So... rather then go out and buy something entirely ornamental for each other as our wedding gift to ourselves we settled on grabbing a pair of identical organizers - and they might as well be the best. Let me tell you - the T|X ROCKS!
<WARNING - GEEK CONTENT>
It has both WiFi and BlueTooth and while we donīt have a WiFi house (yet) we are already using the bluetooth a ton.
The screen is beautiful - very bright and clean looking and the improvements to Graffiti 2 (the data entry system of kinda-printing) is wonderful.
We have tracked the entire process of creating our thank-you cards for our wedding using the palm (including loading up the excel spreadsheet with our list of invites into the palmīs "documents to go" system so we can copy and paste names and addresses!
</GEEK CONTENT>
So there you have it - the prefect gift for the geek couple on your list ;)
---
RSS feed
Feed Description
All News RSS feed
Complete RSS feed
Bosunīs Log
RSS feed for: Bosunīs Log
A Rich Site Summary (RSS) feed is an xml data file that provides a summary of the information contained here. It is not designed to be viewed in your browser, but instead by rss reader software. If you do not know what this means - you can safely ignore it, as it is provided for advanced users with rss reader software only.