May 31st, 2006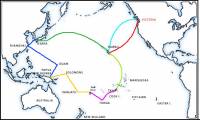 the routs
It started with rumors
Back
in 2005, then I spoke with Tony via
VHF
About
2 months ago and heard it had been confirmed, but I thought I should wait for SALTSī formal announcement before I posted it here... Offshore 2007 is going where no offshore has gone before!
To Asia!
It was really one of the only places left, having already voyaged to Europe and many times in the South Pacific. In 2007 the Pacific Grace will travel to such exotic ports as Papua New Guinea, Guam, Okinawa, Shanghai, Osaka, and Tahiti - to name a few.
more information is available here:
http://www.salts.ca/offshore_subsite/offshore_home.html
It is one of those things that I wish I could do - drop everything and go... but I have many amazing experiences planned here and it would only be a trade not an addition.
To all those that travel
Aboard
the Grace we wish them well - and hopefully will, yet again, track their progress here as they visit the other half of the world!
---
RSS feed
Feed Description
All News RSS feed
Complete RSS feed
Bosunīs Log
RSS feed for: Bosunīs Log
A Rich Site Summary (RSS) feed is an xml data file that provides a summary of the information contained here. It is not designed to be viewed in your browser, but instead by rss reader software. If you do not know what this means - you can safely ignore it, as it is provided for advanced users with rss reader software only.