May 10th, 2006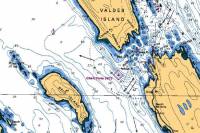 Porlier Pass
With all the radios being on at home most of the time we tend to hear some fairly interesting stuff... combine that with our involvement with the
CCGA
and it all fits together nicely (In fact, I sit here writing this while there is a search going on right near Vancouver Airport) - but yesterday was a special case.
One of our friends in the Auxiliary has a sailboat. We only found out
About
that
About
a week ago - and it was the first time we had heard its name īWind Maidenī He was possibly going to be visiting our area which is the only reason why we discussed the vessel and his trip.
Yesterday I was working in my office - with the radios on as usual and was just
About
to take a break and mow the lawn what I heard a very scratchy call
About
a vessel broken down near Poilier Pass and requesting assistance. The call was so weak that I couldnīt copy the vessel name, but I thought I recognized the voice - so I stayed to listen. I knew
MCTS
would soon issue a broadcast and Iīd be able to confirm my suspision then.
Sure enough it was Wind Maiden - and knowing that
CCGA
vessel as not tasked for anything other then immediate danger either I managed to contact one of the
CCGA
units to help him (as a training exercise) or he was going to have to pay for a commercial assist (for those that donīt know commercial assistance usually costs in excess of $500 for a short tow - and the nearest vessel to him was an hour just to get there)
The nearest
CCG
unit is in Ladysmith and I had just recently been there for a visit as part of the
ARTE
team, so I tried calling the Unit Leader - voicemail - drat! The next closest unit was the Gulf Islands unit and our Manager of
SAR
is a member so I tried calling him - but he was on-call for Ambulance and couldnīt go - double drat!
I had been trying to limit my calls and find someone quickly but I was out of phone numbers and I knew if something didnīt happen soon my friend would likely accept the commercial assist - so I called my friend on Wind Maiden via mobile phone - at least to let him know I was trying...
He suggested the past unit leader in Ladysmith and after a quick call to the
CCGA
office to get his number I finally made contact. The Ladysmith
CCGA
unit was happy to go and assist and in the end towed Wind Maiden safely into Maple Bay.
Considering how must time this particular member has contributed to the Auxiliary it would have been a terrible shame for him to have had to pay for commercial assistance - which made the fact that Ladysmith could make it out to help all that much more delightful.
It certainly put a smile on my face - what with all the coincidences involved - had he not told me
About
his
Boat
, had I not happened to be in the office at that time, had I not have just recently started monitoring Ch 04A - it simply wouldnīt have panned out.
Anyway - thatīs my happy ending story for the day.
---
RSS feed
Feed Description
All News RSS feed
Complete RSS feed
Bosunīs Log
RSS feed for: Bosunīs Log
A Rich Site Summary (RSS) feed is an xml data file that provides a summary of the information contained here. It is not designed to be viewed in your browser, but instead by rss reader software. If you do not know what this means - you can safely ignore it, as it is provided for advanced users with rss reader software only.