April 7th, 2006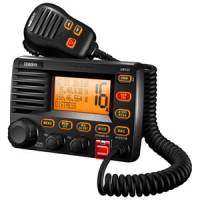 Uniden UM535 ES
I know itīs been a while since my last
Log
entry - life got really busy there for a bit (not that it has let off much...) So I thought it was well and truly time for post.
The latest news was yesterdayīs install of a new Uniden UM535ES base
VHF
radio into our little monitor/relay shack. We frequently provide relay traffic up Sechelt Inlet during distress incidents and are now
Starting
to get involved with the Provincial Emergency Program members here on the coast to ensure that we can relay between Marine and Land
SAR
during a major disaster (one that wipes out phone service)
This new little toy is quite nice - for under $300 itīs a fixed mount Class-D
DSC
VHF
so we finally have a full monitor for
DSC
calls. Which, interesting to note, I just saw used by
MCTS
Comox for an AllShips message to issue a NOTESHIP message (if you have no idea what Iīm talking
About
try a google search on
GMDSS
DSC
)
This combines with new 7db Antennas mounted on our
Mast
About
6ī above our roofline is giving us some really interesting reception. For the first time we are hearing Vancouver
CCG
(small repeater in the harbour only) and vessels as far away as Point Roberts!
So, now with 3 radios - two with available scan, we can effectively monitor all the key
SAR
frequencies for our area with a fixed monitor of 16 and 22 (our primaries) - just in time for the Summer (the busiest season for
SAR
with all the rec. boaters)
---
RSS feed
Feed Description
All News RSS feed
Complete RSS feed
Bosunīs Log
RSS feed for: Bosunīs Log
A Rich Site Summary (RSS) feed is an xml data file that provides a summary of the information contained here. It is not designed to be viewed in your browser, but instead by rss reader software. If you do not know what this means - you can safely ignore it, as it is provided for advanced users with rss reader software only.