August 28th, 2005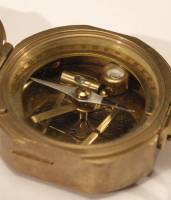 Hand Compass
When I left off
this story
I had completed my research - so it was time to start jumping through the Transport Canada hoops.
As fate would have it, one of the members of my Coast Guard unit was also interested in getting a 60tn - although he had elected to pay for the
Course
. He was, however, working to get hsi friend (a certified instructor) to teach the
Course
here in Sechelt.
We had to take courses for the MED A2 and the ROC-MC portions, so Kellei and I deceided to do all of that together - it was a local
Course
and only took 5 days for both. We both already had the Advanced First Aid - so this would be the only formal instruction necessary.
The ROC-MC radio
Course
was very easy for me - being an electrical engineering grad with a specility in communications, a HAM radio operatior, and having held a ROC-M certification since I was in my early teens, the commercial
Course
was mainly just a brush up on the
GMDSS
and
DSC
.
The MED A2 was the cool one. Granted, itīs just a safety
Course
- centered on many of the things we keep up on during Coast Guard training. THings like hypothermia & cold shock, survival, distress situations, croud control and management, etc... For me personally the ability to actually launch a life raft and get inside - which gave us a first hand impression of what it would be like to be in there - will certainly help should we ever encounter one during a
SAR
mission. I hope we never do - but after taking the
Course
- I believe it is something everyone in the Auxiliary should take, just for their own personal benifit.
It certainly wouldnīt hurt for recreational boaters to take the
Course
too - but with a $800 price tag - I doubt too many would find it a reasonable expendature.
- Iīll continue this, hopefulyl tomorrow - if I have net access to do so - writing
About
nautical experiences from Oklahoma, somehow that just seems wrong.
---
RSS feed
Feed Description
All News RSS feed
Complete RSS feed
Bosunīs Log
RSS feed for: Bosunīs Log
A Rich Site Summary (RSS) feed is an xml data file that provides a summary of the information contained here. It is not designed to be viewed in your browser, but instead by rss reader software. If you do not know what this means - you can safely ignore it, as it is provided for advanced users with rss reader software only.