February 10th, 2006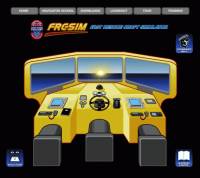 Prototyle console for the SARSim
Well, Iīm off to Victoria _again_ for more
CCGA
meetings - this time centered on the new
Fast
Response Craft simulator project they have in the works.
If it all works as it should it will be a one-of-a-kind new tool for training rescue crews - and should generate world interest. The system is broken into several components including, on=line NET (Navigational Equipment Trainer)
SAR
school - which is a classroom based training, and FRCSim which is the full mission simulator (thing physical mock-up of a
Boat
and 14ī projection screens!
see
http://www.ccga-pacific.org/frcsim/
for a promo.
Sounds cool - weīll see how it flys when itīs done. In any regard - Iīll probably be away from the blog for a few days - but the best news is that I get to pick up Kellei on the way
Back
through Vancouver (yeah!)
---
RSS feed
Feed Description
All News RSS feed
Complete RSS feed
Bosunīs Log
RSS feed for: Bosunīs Log
A Rich Site Summary (RSS) feed is an xml data file that provides a summary of the information contained here. It is not designed to be viewed in your browser, but instead by rss reader software. If you do not know what this means - you can safely ignore it, as it is provided for advanced users with rss reader software only.