January 24th, 2006
Personally Iīm more of a tree-hugger then a Lumberjack (especially the Monty Python kind) - but these 120ī maples in our
Back
Yard
were becoming a danger to the entire neighbourhood and needed to go.
We had arranged with a local tree service to take down the trees a couple of weeks ago and they had been waiting for goo dweather and a break in their hydro contract to start the project. They arrived
About
10am this morning and went to work.
It rapidly became evident that had we not cut them down they would have come down on their own soon enough - the main trunk of one of the clumps being rotten through and through all up the middle.
So we spent the day working and watching them at work - also watching the HUGE pile of debris building up in the
Back
Yard
. We didnīt get them to chip anything (basically to save
About
$2000) and have friends coming to collect the firewood and deal with the mess as soon as they are finished - one more day should do it.
On the plus side - we have a better view of the forest now, our one evergreen tree should be able to grow better, and there is far more light and less moss for the new roof when it goes on later next week.
- man itīs going to look like a new house when weīre all done.
---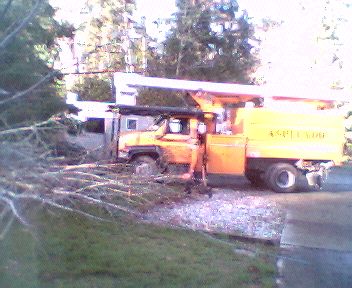 Removal of the trees
RSS feed
Feed Description
All News RSS feed
Complete RSS feed
Bosunīs Log
RSS feed for: Bosunīs Log
A Rich Site Summary (RSS) feed is an xml data file that provides a summary of the information contained here. It is not designed to be viewed in your browser, but instead by rss reader software. If you do not know what this means - you can safely ignore it, as it is provided for advanced users with rss reader software only.