January 23rd, 2006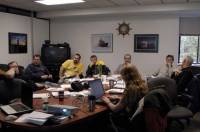 Part of the 12 hour Coxswain Standards dev. session
It was an amazing yet busy weekend! Meeting with the President and executive Director of the
CCGA
About
the
SAR
module. Taking a tour of
JRCC
and meeting the OIC, and Superintendent of
SAR
(who we knew from
ISAR
) and finally working for
About
20 hours on the Coxswain Training Standards with the
ARTE
team...
We started first thing Thursday Morning and traveled to Victoria to have lunch with our friend from the
CCGA
office (mmmm Sushi) the afternoon was meetings
About
the
CCGA
web site:
http://www.ccga-pacific.org
and more specifically the
SAR
module (as I have so frequently mentioned here in the past) That night we stayed at the Laurel Point Inn (which was awesome)
Friday morning we were off to
JRCC
for a tour and to meet with their IT manager to look at integrating the
SAR
module into the
RCC
GIS system (how cool is that!) we took some virtual tours inside
JRCC
and were able to watch as the
CCGA
unit 5 was tasked out on a call - this was fascinating for us as we are basically working for
JRCC
when we go out on the
Boat
- being there and speaking with the controllers really provided the final look at the complete
SAR
picture (apart from looking at all the cool toys they get to play with) While we were there we got to meet the OIC and the Superintendent of
SAR
(John Palliser - or JP as we got to know him when he was cheering us on at
ISAR
)
Friday evening, Saturday and Sunday was all
ARTE
working groups to finish development opf the
CCGA
Coxswain Training Standards. This was a very intense session with Saturday lasting almost 12 hour solid in the conference room hashing through the individual skill requirements of the standard. It still needs some final; tweaking and proofing - but we accomplished an amazing amount over the weekend and now have a much better idea of where the Coxswains in the
CCGA
need to be moving.
An interesting experience this weekend was our accommodations in the Chief and Petty Officers Mess on the Pacific Navy Base - not the most luxurious accommodations - but interesting to get a feel for the experience.
---
RSS feed
Feed Description
All News RSS feed
Complete RSS feed
Bosunīs Log
RSS feed for: Bosunīs Log
A Rich Site Summary (RSS) feed is an xml data file that provides a summary of the information contained here. It is not designed to be viewed in your browser, but instead by rss reader software. If you do not know what this means - you can safely ignore it, as it is provided for advanced users with rss reader software only.