January 18th, 2006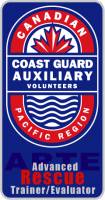 Advanced Rescue Trainer Evaluator Team
We are
Back
at it again - working to define the Coxswain Training Standards for the
CCGA
and the training delivery for the region. Itīs all very exciting what we are doing - and Iīm enjoying every minute of it all. The fact the Kellei is along for it all this time is an extra bonus.
We spent most of today getting ready for the weekendīs activities - prepping the last of the documents for the group and finalizing the dvd presentation that Iīm building for the meeting with the staff and management of the
CCGA
.
If all this comes to fruition it will be a wonderful thing - and the best part so far is that Iīm getting great reviews
Back
from the people using it - so far, nothing negative - which, from past experience, is truly amazing.
Wish us luck, I probably wonīt be blogging again until we get
Back
late Sunday or early Monday Morning.
---
RSS feed
Feed Description
All News RSS feed
Complete RSS feed
Bosunīs Log
RSS feed for: Bosunīs Log
A Rich Site Summary (RSS) feed is an xml data file that provides a summary of the information contained here. It is not designed to be viewed in your browser, but instead by rss reader software. If you do not know what this means - you can safely ignore it, as it is provided for advanced users with rss reader software only.