January 15th, 2006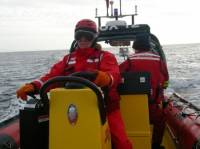 Kellei at the helm
Kellei and I were on our way to do some
CCGA
training yesterday - but the pager went off in the
Car
half way to the base.
One of our new crew had requested some on-water training, and being predisposed to accept such requests as frequently as possible we jumped for the chance. We were planning some docking and maneuvering practise and had a crew of 4 set to go out. One of them lives quite close (he actually does some development work with me from time to time) and so we carpool. So, here we are all three in the
Car
and off goes the pager...
Now, strangely enough we were not on-call at the moment - so first we tried to contact the on-call coxswain to let him know we were almost there anyway and could take the call. In the end we didnīt manage to connect until we had the
Boat
prepped and running and he was at the
Dock
- but he expected we would be there and handed off the call.
The report was just a vessel
Adrift
off White Islets - so there was no danger and we made our way out to that location. With all the wind and sprint tides there was an incredible amount of debris in the water (logs mainly) and our transit through welcome pass was like a slolom
Course
(good driving Kellei!)
It took a while to find the
Boat
- as it turned out he was nowhere near White Islts - in fact he was half way across the Strait of Georgia more abeem Trail Islands. But we had the reporting party from shore on the cell and he was watching us and the vessel through a telescope and giving us directions - it is surprisingly difficult to spot an 18ī vessel in a large body of water even from only 1nm away.
When we eventually found him it turned out he was only out of gas and we towed him
Back
to Secret Cove to fuel up.
Nothing heroic or staggering - but a great day none the less and far better then training. Towing involves quite a bit of close crew coordination and communications to set-up correctly, and the crew performance was awesome!
The only unfortunate part of the whole thing was that the new crewmember that initially called to request the on-water training missed it all because we left
About
10 mins before our training had been scheduled to start... we called her to apologize and she jokingly admitted to learning that sometimes there were benefits to getting there early!
---
RSS feed
Feed Description
All News RSS feed
Complete RSS feed
Bosunīs Log
RSS feed for: Bosunīs Log
A Rich Site Summary (RSS) feed is an xml data file that provides a summary of the information contained here. It is not designed to be viewed in your browser, but instead by rss reader software. If you do not know what this means - you can safely ignore it, as it is provided for advanced users with rss reader software only.