January 6th, 2006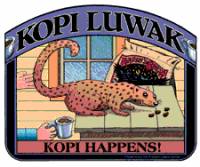 I have been called a coffee finatic, coffee snob, and espressomaniac - but I do not believe I would dare to go as far as spending $175 a pound for coffee beans which have passed through the backside of a furry mammal in Indonesia!
The latest in extreme coffee:
Kopi Luwak
The article:
http://www.msnbc.msn.com/id/10642228/
All I want to know (as with several things we crazy humans consume) is who came up with this - I mean seriously - Oh, Look... Cat droppings - letīs rost the beans and drink them! WHAT! - bizzare...
In other news (and slightly more sane) Iīm finally
Back
up and running to the point where I can get work don on my main system. Several people are asking for photos - so I promize Iīll have something for you tomorrow in that regard.
---
RSS feed
Feed Description
All News RSS feed
Complete RSS feed
Bosunīs Log
RSS feed for: Bosunīs Log
A Rich Site Summary (RSS) feed is an xml data file that provides a summary of the information contained here. It is not designed to be viewed in your browser, but instead by rss reader software. If you do not know what this means - you can safely ignore it, as it is provided for advanced users with rss reader software only.