July 31st, 2008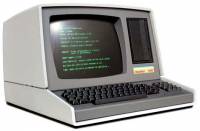 Heathkit H89 Computer
I just found a photo online of my very first computer (now I feel old) it was called the Heathkit H89 (kit because you build it yourself) and was given to us by a friend of my father who built it.
The thing first came out in 1979 (I was 5) and we got it that year shortly before my 6th birthday. I was hooked from the start - despite the fact that it had no software and if you wanted it to do anything you needed to program it yourself. To a six-year-old this meant learning BASIC from the off... To a six-year-old this meant a lot of FOR loops making words scroll off the screen and giggling
About
having done that.
Yes, I have always been a geek ;)
Anyway the photo brought
Back
a
Flood
of memories and recollection to the time when you purchased a computer rather then series of components that get stuck together to create something that in turn gives you a wide array of choices in operating system and software. Not to mention that the processor in my cell phone or Ipod can do
About
100 times as much as that Heathkit could. Gotta love Mooreīs Law!
---
RSS feed
Feed Description
All News RSS feed
Complete RSS feed
Bosunīs Log
RSS feed for: Bosunīs Log
A Rich Site Summary (RSS) feed is an xml data file that provides a summary of the information contained here. It is not designed to be viewed in your browser, but instead by rss reader software. If you do not know what this means - you can safely ignore it, as it is provided for advanced users with rss reader software only.