December 11th, 2006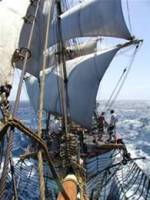 For those that havenīt heard... An International search is underway for a 25-year-old Canadian woman missing in the Atlantic Ocean since Friday when she was swept off the tall
Ship
Picton Castle
on Friday night.
The CBC has two articles regarding this:
http://www.cbc.ca/cp/Atlantic/061209/t120904A.html
http://www.cbc.ca/canada/story/2006/12/11/gainey-search.html
and the
Picton Castle
web site:
http://www.picton-castle.com/
Iīm not sure what to say, having crewed on a tall-ship and now as a member of the Canadian Coast Guard Auxiliary - hearing
About
things like this brings feelings that are far too close to home. I have been on
Board
Picton Castle
and I can only imagine what
the crew there
is going through at the moment.
My hopes and best wishes go to them... there is little more to say...
---
RSS feed
Feed Description
All News RSS feed
Complete RSS feed
Bosunīs Log
RSS feed for: Bosunīs Log
A Rich Site Summary (RSS) feed is an xml data file that provides a summary of the information contained here. It is not designed to be viewed in your browser, but instead by rss reader software. If you do not know what this means - you can safely ignore it, as it is provided for advanced users with rss reader software only.