The Bridge to the Royal Gate House in Tokyo
The Bridge to the Royal Gate House in Tokyo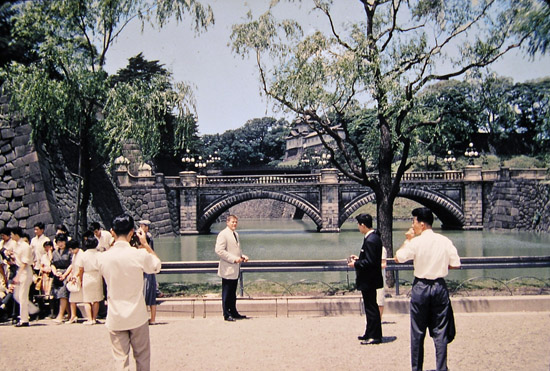 Not Rated
<< Previous Image
Album Contents
Next Image >>
From:

kpbosun

views 32767

Filename: emperors gate-me web.jpg

Photography is a huge tourist activity in Japan. I joined in on occasion by having a picture taken at famous spots. In this case it was the area in front of the moat and bridge that leads to the gate house for the imperial palace. It is about the only part of the complex that a tourist can get to see. You can see how long ago it was by the way I was dressed and how young I looked.
More recent pictures that I have seen show little change after some forty years.

RSS feed
Feed Description
Full RSS feed
Complete RSS feed
Commercial Shipping
RSS feed for: Commercial Shipping
Before Containers
RSS feed for: Before Containers
A Rich Site Summary (RSS) feed is an xml data file that provides a summary of the information contained here. It is not designed to be viewed in your browser, but instead by rss reader software. If you do not know what this means - you can safely ignore it, as it is provided for advanced users with rss reader software only.