Durban Town Hall 1961
Durban Town Hall 1961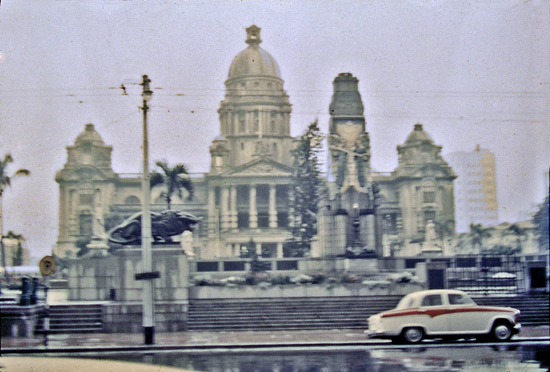 Not Rated
<< Previous Image
Album Contents
Next Image >>
From:

kpbosun

views 32767

Filename: Durban Town Hall web.jpg

Here is a picture that I took on a rainy day while a Cadet on the S. S. Robin Hood. Missing from the photo are a couple of Zulu Warriors in full regalia with rickshaws. They had a regular business of giving rides to tourists for a moderate fee. It was actually a pretty exciting ride because they get up to a good run and slide back on the shafts. The cart would tip back and they would come off the ground giving the rider quite an unexpected experience.
See the next photo for more details.

RSS feed
Feed Description
Full RSS feed
Complete RSS feed
Commercial Shipping
RSS feed for: Commercial Shipping
Before Containers
RSS feed for: Before Containers
A Rich Site Summary (RSS) feed is an xml data file that provides a summary of the information contained here. It is not designed to be viewed in your browser, but instead by rss reader software. If you do not know what this means - you can safely ignore it, as it is provided for advanced users with rss reader software only.