October 27th, 2005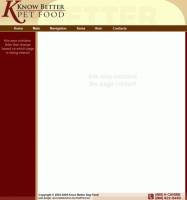 Recent Project: New design template for Knowbetterdogfood.com
I spent today working - sound typical right? wrong.
I have loads of work to do - but often I spend much of the day on the phone talking
About
work, answering emails
About
work, and then fit in a bit of pressing volunteer commitments in the evening - without actually getting much work done.
Today was awesome! I got up at 4am and have been working until now - and it feels great! That said, Iīm now
Starting
to get to that "fitting-in" portion of the day getting some more work in on the quiz module that will be used by the Coast Guard and several schools to create on-line polls, tests, and practice quizzes.
Altogether much better then yesterday that was almost entirely spent fighting a major fire with my backup module that was imploding bigtime with the huge database from one of my customers - I think I finally have that fixed (fhew!)
Anyway - my orals are looming, the
ARTE
Course
is just around the corner from that, Kellei wants to run a first aid refresher and Iīm by no means done with work - I love my life!
---
RSS feed
Feed Description
All News RSS feed
Complete RSS feed
Bosunīs Log
RSS feed for: Bosunīs Log
A Rich Site Summary (RSS) feed is an xml data file that provides a summary of the information contained here. It is not designed to be viewed in your browser, but instead by rss reader software. If you do not know what this means - you can safely ignore it, as it is provided for advanced users with rss reader software only.