September 23rd, 2005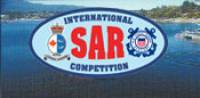 ISAR Logo
Pretty much everyone I talk to now is wishing us well at
ISAR
- even my customers. Itīs getting very exciting. The entire team arrives later this aftedrnoon for our final training weekend and with them come the flight suits - and yes we are excited
About
that too ;)
I spent a lot of the afternoon yesterday getting training materials ready. Partly that included reading through chapter 11 of the
SAR
Seamenship Reference (while Kellei baked awesome p-butter+choc chip cookies) and also drawing up sheets with tasks for each of the events. Iīm hoping that everyone will have their tasks picked out long before the weekend. Itīs a bit of a challenge because we donīt really know until we get there which of the 3 crew will be on the team (they randomly pull one off to go to a Can-Am team) so everything we do needs to have three different possible crew combinations.
Apart from that everything is basically straightforward and when the team collects tonight (after some homemade Pizza) we will go though some of the planning for all of that as well as a radio Quiz and splicing review. And yes, for those that are curious - I have already given copies of
Scottīs Knots
to all the team members :) Iīll probably take a few with me too.
I sure do feel like all this prep work is going to be helpful post-ISAR too. Especially now that Iīm doing the training thing in the Unit. there is tons of useful material here that I can use to put together specific training for the different levels within our group. Which has always been the tricky part. We have people with no experience all the way to one person with tons more sea-time then me. In the past trying to go through training in one big group has always been a bit of a "common denominator" approach where nobody was really getting what they need. I hope I can turn that around... Ah the future -
ISAR
first - must get through
ISAR
first!
---
RSS feed
Feed Description
All News RSS feed
Complete RSS feed
Bosunīs Log
RSS feed for: Bosunīs Log
A Rich Site Summary (RSS) feed is an xml data file that provides a summary of the information contained here. It is not designed to be viewed in your browser, but instead by rss reader software. If you do not know what this means - you can safely ignore it, as it is provided for advanced users with rss reader software only.