September 19th, 2005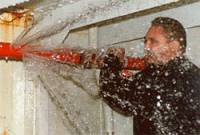 Damage Control?
We have been following the
ISAR
web site quite closely now that we find they change significant things almost daily! But the latest revision of the event descriptions handbook (if you can find the working link on their site - cuz half of them donīt) has some bonus info in it. They actually changed the titles of some of the so called "Mystery Events" from their generic names to, what I believe are, the working names
Mystery Event A -> Marlinespike
Mystery Event B -> Damage Control
Which, if correct, will really help us train for them. Iīm not sure they actually meant to do this - they seem to screw things up quite often... hmmm, am I sounding a bit cynical here?
We actually spent most of the day yesterday out training, although only 3 of the team could be here (the Sunshine Coast Contingent) but that was still very helpful. We spent some time on the
Boat
running search patterns and then watched SAR-Pump instructional videos as well as reviewed radio procedures somewhat.
Now we are on the war-path to find damage control info - last year they made the teams patch a pipe with a hole in it attached to a fire hydrant - Iīm expecting something similar for this year. We do know people who went through last year so we may have some info there - but if anyone has been through a Navy Damage Control Training
Course
- please pass along any info you have!
Still training...
---
RSS feed
Feed Description
All News RSS feed
Complete RSS feed
Bosunīs Log
RSS feed for: Bosunīs Log
A Rich Site Summary (RSS) feed is an xml data file that provides a summary of the information contained here. It is not designed to be viewed in your browser, but instead by rss reader software. If you do not know what this means - you can safely ignore it, as it is provided for advanced users with rss reader software only.