September 2nd, 2008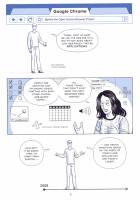 Sample of the comic-book release notes
Just when you thought it you knew the browser contenders - along comes Google Chrome to rock the
Boat
. I feel like the proverbial bowl of petunias saying "Oh no, not again..." but here we are - released in a unique Google way - comic-book style...
For the already confused user community and the already overloaded developer community the last thing we really need right now is yet another browser. For me personally I perish the thought of another browser (probably soon to have multiple versions) that uses a unique new Javascript engine that Iīll need to test everything on <cringe>
That said - it sounds pretty interesting as they have made it a multi-process browser with a custom Javascript virtual machine and some unique new security - I have grabbed a copy and will give it a shot and see how it works...
Stay
tuned as I let you know what itīs like under the hood.
You can download
Google Chrome
too...
For the developer - if youīre looking for a sample
Google Chrome User Agent
string try this:
Mozilla/5.0 (Windows; U; Windows NT 5.1; en-US) AppleWebKit/525.13 (KHTML, like Gecko) Chrome/0.2.149.27 Safari/525.13
---
RSS feed
Feed Description
All News RSS feed
Complete RSS feed
Bosunīs Log
RSS feed for: Bosunīs Log
A Rich Site Summary (RSS) feed is an xml data file that provides a summary of the information contained here. It is not designed to be viewed in your browser, but instead by rss reader software. If you do not know what this means - you can safely ignore it, as it is provided for advanced users with rss reader software only.