September 15th, 2005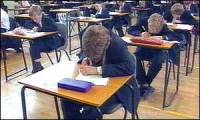 Others stuck writing an exam
almost 6 months of lead-up and 7 years of training
Aboard
SALTS vessels - Iīm not sure if I know later today or not if I pass this sucker - but hereīs hoping...
I think I could probably have studied more - but there simply wasnīt time - between Coast Guard and real work these things must find only spare moments. Hopefully what I have done will be enough.
Iīll try to memorize as many of the questions as I can and make a good post
About
that later.
Wish me luck!
PS: - For all the UFIEīs out there - Way To Go AJ! for the rest of you who have no idea what Iīm talking
About
- see
http://www.userfirendly.org
---
RSS feed
Feed Description
All News RSS feed
Complete RSS feed
Bosunīs Log
RSS feed for: Bosunīs Log
A Rich Site Summary (RSS) feed is an xml data file that provides a summary of the information contained here. It is not designed to be viewed in your browser, but instead by rss reader software. If you do not know what this means - you can safely ignore it, as it is provided for advanced users with rss reader software only.