December 30th, 2005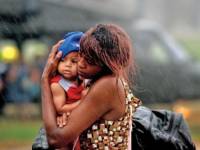 one of the so-called top-ten
I recently stumbled across links to the top ten photos of 2005 as proposed by several agencies - I was disheartened to discover that ALL the photos were of death and destruction...
Case in point:
http://www.time.com/time/yip/2005/
http://www.msnbc.com/modules/yip05/dw.asp?nStartOn=1
Is this to be how we rate the best of the year? how very depressing!
I would propose that death and misery are so far from the best images of the year that it should be easy to choose 10 from other categories. Take the images of
http://www.trekearth.com/
I bet, given
About
15 mins, I could find 10 photos there that completely blow away the ones from Time or MSNBC...
Ah well - my rant will change nothing - but it feels good. I havenīt had
Cable
tv for close to 10 years now. When I travel I see TV in hotels and the airport and I miss it even less. The constant barrage of misery and hate - this is not what I need in my life. Iīm not hiding from it - but I donīt intend to dwell on it.
I have far better things to do.
---
RSS feed
Feed Description
All News RSS feed
Complete RSS feed
Bosunīs Log
RSS feed for: Bosunīs Log
A Rich Site Summary (RSS) feed is an xml data file that provides a summary of the information contained here. It is not designed to be viewed in your browser, but instead by rss reader software. If you do not know what this means - you can safely ignore it, as it is provided for advanced users with rss reader software only.