December 21st, 2005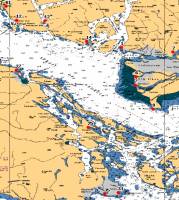 CCGA-P Partion Vessel Map
Obviously this is just a start - it uses an advanced bit of code I created as an enhancement from the module that plots the vessel tracking here on the mate. It has been enhanced to provide for base maps that cover less then the entire earthīs surface and can autmoatically select the map with the best scale that contains the point or points to be plotted from all those available.
The best part is the ability to set the lat/long on a web form by clicking on a
Chart
(also from the list of those available)
Put this all together and now
SAR
missions can have their Lat/Long selected by a click and all are then automatically plotted on a map for later analysis.
pretty cool eh!
---
RSS feed
Feed Description
All News RSS feed
Complete RSS feed
Bosunīs Log
RSS feed for: Bosunīs Log
A Rich Site Summary (RSS) feed is an xml data file that provides a summary of the information contained here. It is not designed to be viewed in your browser, but instead by rss reader software. If you do not know what this means - you can safely ignore it, as it is provided for advanced users with rss reader software only.