December 3rd, 2005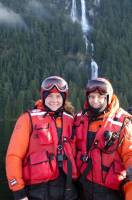 Kellei & Tim at Harmony Falls
More winter
CCGA
training today. Kellei and I took out three new crew from CCGA-12 and enjoyed a beautiful sunny morning - albeit a bit of a cold one. We started off as usual with a vessel orientation and then proceeded out to Halfmoon Bay again for some basic Man
Overboard
Drills and
Boat
handling. A beautiful day in the sun and three very enthusiastic new members.
All this interest in getting training moving along is fantastic and itīs great experience both for us and for the others. I sometimes do wish I had started in with the
CCGA
Back
when I first turned 18 - but then again I have been given enough of a chance to jump
Ahead
now that I am.
Iīm still working on the
SAR
module for the
CCGA
and programming up a storm - other people are
Starting
to add reports and thatīs ironing out some of the bugs - as I expected. It still has a long way to go before itīs ready for the
CCGA
AGM in Feb - but with the speed of development at itīs
Current
pace - it should be pretty well established by then.
---
RSS feed
Feed Description
All News RSS feed
Complete RSS feed
Bosunīs Log
RSS feed for: Bosunīs Log
A Rich Site Summary (RSS) feed is an xml data file that provides a summary of the information contained here. It is not designed to be viewed in your browser, but instead by rss reader software. If you do not know what this means - you can safely ignore it, as it is provided for advanced users with rss reader software only.