December 2nd, 2005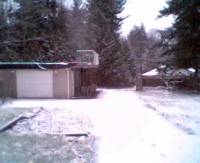 My Backyard Webcam
We continue to enjoy a peaceful snow coating in our neighbouhood - we tend to make a big deal of such things as we so rarely get snow on the coast. Kellei and I enjoyed a 45min
Hike
this morning through the forest park that backs off our property. It was so refreshing and peaceful - a wonderful start to the day.
In work terms - Iīve mainly been working on completing the new
SAR
tracking module for the
CCGA
. I think I mentioned it here before but itīs nearing completion now and
Starting
to get very exciting. This new module forms a part of the
http://www.ccga-pacific.org
web site and will track all training and missions across the Pacific region - with links ties to tracking of all the units, people, and vessels used in the region. Itīs the largest single code file I have ever written which is almost 10,000
Lines
long now and still has lots of bells and whistles to go.
Soon - there will be some public information available from it and as soon as there is Iīll
Forward
along a link.
Finally itīs been almost one year since we released
Scottīs Knots
- the instructional video I put together with a friend of mine for teaching basic knots. The review have been fairly impressive and we are awaiting news currently from the American Sailing Association regarding their opinions - Iīll keep you posted there too.
---
RSS feed
Feed Description
All News RSS feed
Complete RSS feed
Bosunīs Log
RSS feed for: Bosunīs Log
A Rich Site Summary (RSS) feed is an xml data file that provides a summary of the information contained here. It is not designed to be viewed in your browser, but instead by rss reader software. If you do not know what this means - you can safely ignore it, as it is provided for advanced users with rss reader software only.