November 17th, 2005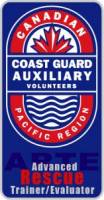 Now that the 60 ton is behind me itīs
Back
into the
CCGA
for a bit. The
ARTE
Course
starts Friday (after a visit to SALTS of
Course
) and then there are now 6 new crew in our unit to get trained up to the crew level.
The
ARTE
Course
sounds like its going to be fun while at the same time fairly intense. We have classroom work on Friday from 1700 till 2200 and then weīre in the classroom and on the water Sat 0800-1700 with a shorter day Sun 0800-1500. Iīm pretty much done the assignment part of creating the exams and the Quiz module. As soon as itīs a bit more polished Iīll upload it here and create some sample seamanship quizzes that everyone can try.
I have another new crew orientation today - which is especially cool in that the person joining our unit has been volunteer crew with SALTS and is a bosunsmate.org member! Now thatīs full circle for ya!
---
RSS feed
Feed Description
All News RSS feed
Complete RSS feed
Bosunīs Log
RSS feed for: Bosunīs Log
A Rich Site Summary (RSS) feed is an xml data file that provides a summary of the information contained here. It is not designed to be viewed in your browser, but instead by rss reader software. If you do not know what this means - you can safely ignore it, as it is provided for advanced users with rss reader software only.