August 19th, 2005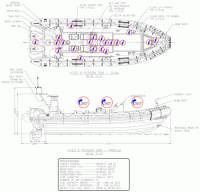 Since I first joined the Coast Guard Auxiliary, I felt compelled to leverage my existing Virtual Tour knowledge and create a complete tour of a rescue vessel - but the
Boat
we were using at the time was old, and somewhat "ill" it was also an x-CCG
Boat
rather then being a
CCGA
vessel and as such had the incorrect markings and colours for the
CCGA
.
Now that our new vessel has arrived, however, the time was ripe. So, Kellei and I spent
About
two hours photographing every inch of the vessel (in pristine shape - her being only 2 days old at the time)
I now possess 3 virtual tours (taken from
Fore
, midships, and
Aft
) as well as quite a few still images of the interesting bits.
My task now is to put all this together into an online presentation - hopefully I can get this done in short order - but as always, customer paid work will need to come first. I did manage to spend some time creating the base Image Map for the project though.
Iīll be sure to keep everyone posted as soon as there is something to see.
---
RSS feed
Feed Description
All News RSS feed
Complete RSS feed
Bosunīs Log
RSS feed for: Bosunīs Log
A Rich Site Summary (RSS) feed is an xml data file that provides a summary of the information contained here. It is not designed to be viewed in your browser, but instead by rss reader software. If you do not know what this means - you can safely ignore it, as it is provided for advanced users with rss reader software only.