November 12th, 2005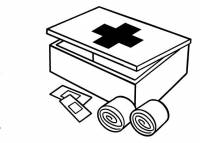 Iīm sure I mentioned somewhere that Kellei is a first aid instructor through her company
http://www.natureescapes.ca
Yesterday was my first opportunity to participate in a Emergency First Response
Course
that she was putting on. It was a great refresher and, as usual, makes you feel far more prepared inside.
So much going on at the moment itīs overwhelming, as usual. My 60tn Oral exam is in 2 days (Monday) and the
ARTE
Course
starts on Friday - also less then a week away. Now that our
CCGA
vessel is
Back
at base itīs time to really kick into
Gear
as the training officer for the unit, and that is always regular work to do. weeee....
As all this is going on here - our thoughts keep drifting over to Kelleiīs mom, who is in Jordan at the moment on a vacation - thankfully not in Amman. She has a bit of a knack for going to places at the wrong time but managing to keep out of trouble - being in India during the tsunami last year as well. We hope she is having fun (the emails seem to indicate as much) cuz we sure arenīt as we all worry
About
her.
---
RSS feed
Feed Description
All News RSS feed
Complete RSS feed
Bosunīs Log
RSS feed for: Bosunīs Log
A Rich Site Summary (RSS) feed is an xml data file that provides a summary of the information contained here. It is not designed to be viewed in your browser, but instead by rss reader software. If you do not know what this means - you can safely ignore it, as it is provided for advanced users with rss reader software only.