November 11th, 2005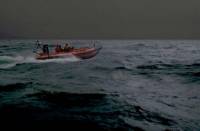 The Straight Of Georgia 1-2m Seas at Night
Our
CCGA
zodiac was finally finished some "tweaking"
Back
at the Zodiac shop and Kellei and I got to bring it
Back
to base yesterday. the Strait of Georgia was still running 1-2m after some gales the previous night so we knew it was going to be a long run.
We left the ramp in the South Arm of the Frasier River at 1615h as the sun was just beginning to descend from sight. I was keen to get out of the river (with all the floating logs etc) before we were cast into darkness. We made it and turned North just as the sun disappeared from sight.
It was a glorious run home but we could only average
About
20 knots due to the swells. Nevertheless it was great practise for rough Wx and for "feeling" the swells - as you canīt really see much at night.
The legs are a bit sore this morning (as is always the case after that kind of ride) but it was a great trip - and even better now that the vessel is
Back
home - we can finally get on with training!
PS: Rememberence Day Today - with all the wars still raging around this world it seems like its more important then ever that we all remember: 2 songs for the day from one of my favorites:
"History Will Teach Us Nothing" & "Childrenīs Crusade" -- By Sting.
---
RSS feed
Feed Description
All News RSS feed
Complete RSS feed
Bosunīs Log
RSS feed for: Bosunīs Log
A Rich Site Summary (RSS) feed is an xml data file that provides a summary of the information contained here. It is not designed to be viewed in your browser, but instead by rss reader software. If you do not know what this means - you can safely ignore it, as it is provided for advanced users with rss reader software only.