November 8th, 2005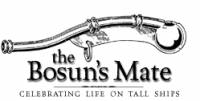 If youīre new here - you wonīt have noticed the change - but the old hands will already have noticed the new menus and
Navigation
on the left side.
Iīve been wanting to update this since I re-worked the back-end of the site several months ago (
Back
when this blog started actually) and I finally put in the time to do it.
The new menus are text-based and database driven which means they are much faster and can be added to and altered with greater
Ease
. They also provide quite a few more functions for users (look at the gallery menu for example)
So - enjoy, and look for the Virtual Tour of the Bluenose II to appear soon in the Virtual Tours menu ;)
---
RSS feed
Feed Description
All News RSS feed
Complete RSS feed
Bosunīs Log
RSS feed for: Bosunīs Log
A Rich Site Summary (RSS) feed is an xml data file that provides a summary of the information contained here. It is not designed to be viewed in your browser, but instead by rss reader software. If you do not know what this means - you can safely ignore it, as it is provided for advanced users with rss reader software only.