November 6th, 2005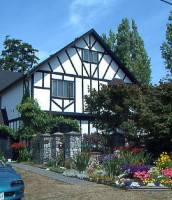 The Lord Nelson B&B
It looks as though I have three days of news to catch up on after being "un-plugged" quite violently
By the wind
storms ravaging Victoria during my trip there. Gale & Storm force winds having knocked out
Cable
service to much of the area.
First (right before we left actually) I received my
061 - Navigation Safety exam results
in the mail, netting an 85% and the chance to keep my
Current
date for my Oral exams on November 14th
We were then off to Victoria to
Stay
at
The Lord Nelson Bed and Breakfast
A B&B I often refer to as the hidden jewel of Victoria as it is not crowded into any of the several collections of B&Bs downtown or next to Oak Bay - but just off the water in Vic-West (quite close to SALTS actually) Just as stunning inside, with wonderful hosts, and all this costs less then similar B&Bs crowded into the more the common areas. There - Iīve let the secret out! If youīre looking for a place to
Stay
in Victoria - tell Rick & Michaela that the Bosunīs Mate sent you ;)
The
Coastal SAR
Course
was awesome. In attendance, Kellei, Brian G. (CCGA-33 Oak Bay), myself, and three members of the US Coast Guard from the
USCGC FIR
. Tyler walked us through the gamut of Canadian
SAR
, including some fun "exercises" on communications and we even got the chance to tour the
MCTS
offices for Victoria - which was so cool that I will devote an entire BmLog to it tomorrow. Brian G. is the training officer for Unit 33 (the same unit from which one of out
ISAR
team members hails) I gave him copies of my on-water lesson plans and he has already shared their unit training plan from last year with me. This looks like it will be a good opportunity for some continued joint-efforts. Brian is also an
ARTE
member and I look
Forward
to seeing him again at the
ARTE
Course
in 2 weeks.
The following day we visited
SMUS
my Alma Mater to drop off our Happy Birthday wishes to Margaret Skinner (my Gr. 12 Math Teacher who has remained a good friend) We took Margaret out for lunch at he favorite Sushi place and had a chance to hook up with a load of past teachers in the staff room prior - lots of smiles there!
Finally, yesterday, was the
Duke of Edinburghīs Award
Silver Ceremony at Government House. As President for the Gold Award Society, I attend these twice a year. Kellei has been recruited to help and has joined the īold guardī helping calm the nervous recipients on their way to the stage.
Fewh, three days - but a lot can happen... Now youīre up to speed anyway. For me: itīs study time for Orals, prep for
ARTE
, and playing catch-up with my day jobs for the next few days - thatīs for sure!
---
RSS feed
Feed Description
All News RSS feed
Complete RSS feed
Bosunīs Log
RSS feed for: Bosunīs Log
A Rich Site Summary (RSS) feed is an xml data file that provides a summary of the information contained here. It is not designed to be viewed in your browser, but instead by rss reader software. If you do not know what this means - you can safely ignore it, as it is provided for advanced users with rss reader software only.