October 7th, 2005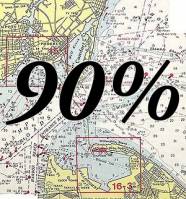 Our return from Halifax was long (7.5 hours in the air) but nice enough - smooth and quiet so we canīt complain. Lots of time to reflext on the last 10 days - and just enough to start fretting
About
how much stuff there is to do as soon as we arrive home.
Today has been all
About
playing catch-up and there is a mound of work to do - Iīve been going since 4am and still have only scratched the surface.
I did get my exam results from the Transport Canada 040 exam - which was a nice bit of news to come home to - 90% was certainly as good as I could have expected - I only hope they will let me know what I did wrong when I go
Back
from the Col-Regs or my Orals so I can improve things... For now itīs all
About
Col-Regs until the 25th when the rules of the road 060 exam rears itīs
Head
.
Another interesting tid-bit that is unconfirmed at present is that Kellei, Shawn and I may be being interviewed on the Global TV morning news next Thursday - but that is still unconfirmed at present... Iīll keep you posted.
Lots of news for our
CCGA
unit too - we came
Back
to having a new deputy unit leader (not a bad thing), a
Boat
house, and new storage location right next to the new
Boat
house! You go away for 10 days and the world changes! - but this is all fantastic news - our new
Boat
can now be kept out of the elements and should last much longer as a result - our response time will also be better and we can rinse the
Boat
after being out - it means more fund raising - but the marina is willing to help us out for a while - so we are still in the charity with their hands out parade ;)
For all the Canadians: Happy Thanksgiving - enjoy the long weekend - for everyone else - enjoy your regular weekend!
---
RSS feed
Feed Description
All News RSS feed
Complete RSS feed
Bosunīs Log
RSS feed for: Bosunīs Log
A Rich Site Summary (RSS) feed is an xml data file that provides a summary of the information contained here. It is not designed to be viewed in your browser, but instead by rss reader software. If you do not know what this means - you can safely ignore it, as it is provided for advanced users with rss reader software only.