October 2nd, 2005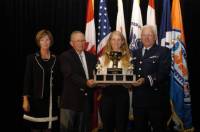 Kellei and her winning Can-Am Team
It was an amazing day and an amazing evening. There is simply so much to tell that I wonīt be able to get through it all in one BLOG posting - but I will summarize the results in this post and try to go into detail when I have a bit more time.
My Pacific Region team won the one event that we wanted to more then any other - the on the water
SAR
exercise - which is really the only event that relates directly to what we do day to day and has left me thrilled!
Kellei lead a team of two Americans over twice her age that she had never met before and won 2 events (
SAR
pump and
Marlinspike
) and the International Can-Am trophy - she was beaming!
Shawn took the lead of team Canada (a composite team of members from four of Canadaīs five regions) to take the win in 3 events, the National, and the overall 2005
ISAR
trophy.
I donīt think anyone at the table could have been happier.
I must leave now for breakfast with all these happy people and the members visiting from the Irish Coast Guard who have become
Fast
friends of us all.
---
RSS feed
Feed Description
All News RSS feed
Complete RSS feed
Bosunīs Log
RSS feed for: Bosunīs Log
A Rich Site Summary (RSS) feed is an xml data file that provides a summary of the information contained here. It is not designed to be viewed in your browser, but instead by rss reader software. If you do not know what this means - you can safely ignore it, as it is provided for advanced users with rss reader software only.